Hydrogen Safety
Overview
The Environmental Research Laboratory (EREL) has developed extensive expertise on hydrogen safety, through:
In the framework of the above activities the group has performed/performs safety analysis of various hydrogen applications (hydrogen fuelled vehicles, hydrogen refuelling stations and fuel cells). The CFD methodology has been used to assess the consequences for various hydrogen release scenarios. For non-stationary applications accidental scenarios included releases from private (cars) and commerical (buses) hydrogen fuelled vehicles in various environments (urban, tunnel, private garage, maintenance shop). Both LH2 and CGH2 on board vehicle storage was considered. Comparisons have been performed against CNG vehicles. For refuelling stations accidental scenarios included releases from the dispenser and tank trailer during refilling operations. Both LH2 and CGH2 technologies were considered. For fuel cell applications accidental scenarios included releases from fuel cells located into enclosed spaces. During the above projects EREL has collaborated with many organizations both from the research community (research centers and universities) and from industry (automotive, cryogenics and petrochemical).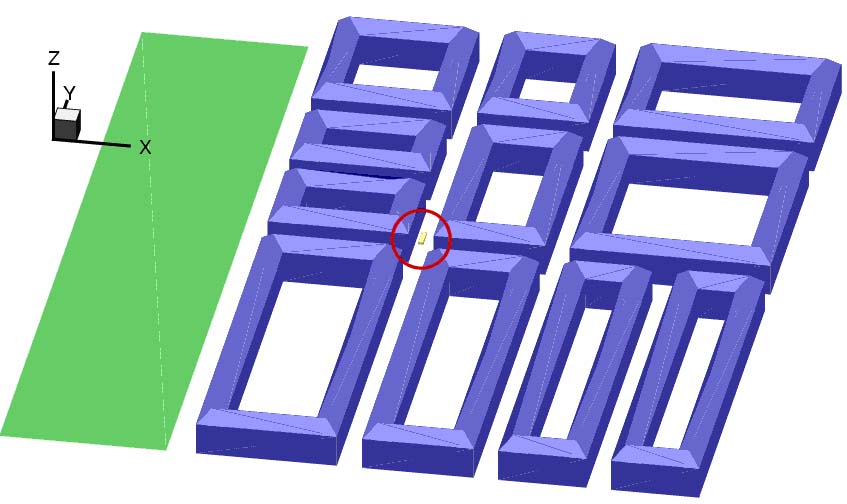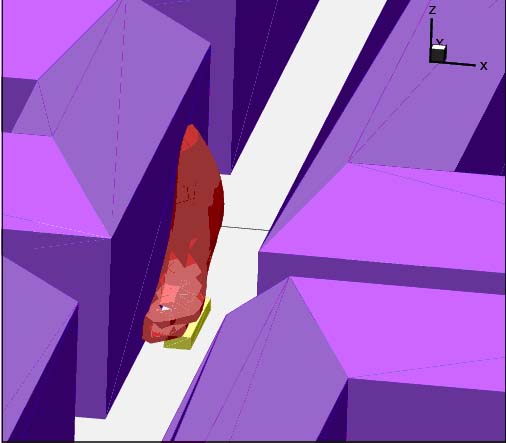 Simulation of the 1983 Stockholm hydrogen accident from Venetsanos et al. (2003) Left: Modeled site (Stockholm) and lorry carrying 4 kg of hydrogen in 18x200lt, 200bar bottles (red circle), Right: Predicted lower flammability hydrogen-air cloud at time 10 seconds after start of release.
EC Projects (top)
- HYPER Installation Permitting Guidance For Hydrogen and Fuel Cells Stationary Applications, FP6, STREP (Nov 2006-Oct 2008)
- HYAPPROVAL Handbook for Approval of Hydrogen Refueling Stations, FP6, STREP (Oct 2005-Sept 2007)
- HYSAFE Safety of Hydrogen As An Energy Carrier, FP6, NoE, (March 2004-Sept 2009)
- EIHP-2 European Integrated Hydrogen Project-Phase II, FP5 (Febr 2001-Jan 2004)
- EIHP European Integrated Hydrogen Project, FP5 (March 1998-Feb 2000)

Services at International Level (top)
- Hong Kong H2 bus Services under contract for ERM Hong Kong (2004-2006)

Publications in peer reviewed journals (top)
- Venetsanos et al. (2009a)
- Baraldi et al. (2009)
- Venetsanos et al. (2008)
- Gallego et al (2007)
- Venetsanos and Barztis (2007)
- Venetsanos et al. (2007)
- Venetsanos et al. (2003)
- Statharas et al. (2000)

Publications in conferences (top)
- Papanikolaou et al. (2009c)
- Papanikolaou et al. (2009b)
- Papanikolaou et al. (2009a)
- Jordan et al. (2009)
- Brennan et al. (2009)
- Venetsanos et al. (2009c)
- Venetsanos et al. (2009b)
- Adams et al. (2009)
- Jordan et al. (2007)
- Papanikolaou and Venetsanos (2007)

Contact person (top)